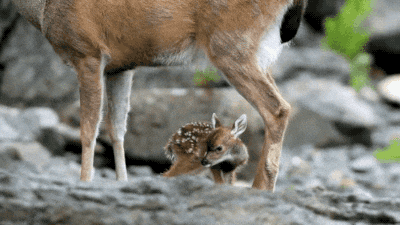 Today was no ordinary day.
Starting at the meeting rock, we trudged uphill to find a dry spot.
We shared and we listened.
My stump wobbled, but Lucy held it as I pulled on my boots.
Through the mud we slurped and oozed.
The storm last night left new paths.
One went to the meadow where rabbits nibble.
One to the oaks where squirrels scurry and chase.
Lucy and I chose the downward slope,
slipping as we reached the marsh.
She whispered and held my hand.
We listened for peepers calling in the hush.
Then it happened as we stared through the reeds.
A doe and fawn tiptoed in for a spring drink.
The blackbirds trilled and a cloud blocked the sun.
The gathering bell rang, and the deer sprang away.
We giggled as we marched back, eager to tell our springtime story.
Today was no ordinary day.